Demonstrations and Exhibitions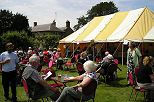 HIDDEN TALENT EXHIBITION
Sheringtonians' secret talents will be uncovered and showcased at the Fete.
It could be painting, sculpting, making models, embroidery, knitting, poetry, calligraphy or photography, or other more unusual skills!
Would you like to take part? Get thinking - what could you exhibit? - we can't wait to see! Please contact June Drew on 01908 614778, or speak to any Fete committee member.
We're looking for any handicraft which can easily be displayed. Any age group is welcome.
SHERINGTON HISTORICAL SOCIETY
Who Do You Think Your Ancestors Were?
'Family History' is the theme of the Sherington Historical Society's stand this year.
Family trees for various Sherington families will be on display.
Find out how to research your own family tree - experts will be on hand to give advice and information.
The SHS archives have a lot of useful information, eg: the 1851 to 1901 Censuses, and these will be on display and available for inspection at the Fete.
If you are interested in local history, come along and find out more about SHS.
History Quiz
Test your knowledge of the village in this fun quiz and win a prize!
The prize is a Family ticket to Bletchley Park
Although quiz sheets will be available on the day, they can also be obtained from the Shop, Post Office and pubs from Saturday 18 June. They cost just £1, which will go towards the local causes being supported by the Fete.
There will be a box on the SHS stand at the Fete to collect your answers.
The SHS Committee will be meeting to mark the quiz sheets on Monday 27 June and the winners will be notified. The winner's name, and the answers, will be posted on this web site and on the SHS web site.
Need a little help? Perhaps you are a relative newcomer to the village? You can still take part. Why not get your quiz sheet the week before the Fete and give yourself a little more time? Go for a pleasant stroll around the village (and admire the scarecrows at the same time), looking for some of the answers. You can also browse through the SHS web site, which contains a considerable amount of information on the village and its history. You may also find some clues on the SHS stand at the Fete.
TRADITIONAL CRAFTS
Lace making demonstration - Sherington Lace Group



Spinning demonstration - www.hebrideansheep.org.uk is recommended for more information