Attractions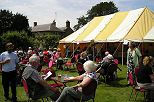 Kid's Activities
Loads and loads of fun!
Treasure Hunt - Face painting - Hook a Duck
Bouncy Castle (sponsored by Sherington Furniture Restoration)
A chance to meet a Llama!
Giant Garden Games - Punch & Judy - Fishing
Many fun traditional stalls - Roll a Penny - etc.
For Teens
Forget Glastonbury - come and have some REAL fun! This Fete is not just for Wrinklies and Kids!
The fantastic 'Bodyflight' sky diving simulator - are you brave enough?
Where else can you go canoeing on a 900 year old moat?
Archery (provided by Northampton Archery Club)
Rocketry - the Bungee Run - Unrideable bike
The various talents of The Rock School
The MK Donets cheerleaders (sponsored by Jacqueline Rosemary's Health & Beauty) - etc.
For the Young at Heart
For the Whole Family
Team Challenge - hot competition in the Veritas 'Bend IT Like Beckham' goal shoot, the Rossleigh Land Rover 'Uphill Land Rover Pull', the Abbeymill Homes Bungee Run and more, plus the Grand Finale Bex Canoe Race!
Also
OPENING CEREMONY - The Fete will be opened by Paul Grayson, veteran fly half and player/coach with the Northampton Saints. With over 35 caps to his credit, Paul was part of the victorious England World Cup Squad in Sydney in 2003.
Later in the day we will be joined by Mark Lancaster, our new local MP, who will present the prizes and draw the Raffle.
We are delighted to be supporting local causes including St Laud's Church and Willen Hospice.
So come, have fun, and help us surpass the £10,000 raised in 2003.