Team Challenge Sponsors
Veritas IT, IT recruitment specialists, are sponsoring the 'Bend IT like Beckham' Football Event in the Team Challenge, and one of the teams, as well as sponsoring our fete programme and the Fete web site advertising boards. Thank You!
Thanks to Christos of Newport Pagnell, who are sponsoring one of the teams.
CAPTAIN CARPET We're very grateful to CAPTAIN CARPET of Olney, who are once again supporting Sherington Fete by sponsoring a team for the Team Challenge, as they did in 2003. And we're pleased to provide space for a stall for a worthy cause supported by Captain Carpet, MK Kids with Diabetes.
Barclays Bank are also sponsoring one of the teams, in addition to their generous support for the Grand Auction.
Julian English Kitchens Julian English Kitchens is sponsoring one of the teams.
Bex Bex Boutique is a new ladies' clothing shop which opens in Olney this month. They are sponsoring the 'Canoe Race' on the moat.
Abbeymill Homes Abbeymill Homes, who create bespoke interiors (everything from plumbing and electrics to tiling and decorating) is sponsoring the 'Bungee Run' event.
2003 Fete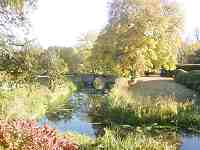 The last Fete in 2003 exceeded all expectations, raising over £10,000 for local community groups, and all who attended enjoyed a fantastic day of family fun. The 2003 Fete website gives you details of the attractions, sponsors and events, including 90 photos of the day itself, and 40 scarecrows. With your help, we hope to make the 2005 Fete even bigger and better.
Village Web Site
Visit www.sherington.org.uk for more information on Sherington, local community groups and other local events.