Community Raffle
Terrific Prizes!
Tickets (£1 each) are now available for the fantastic Sherington Fete Community Raffle.
Prizes currently include:



32" flat widescreen TV/DVD/CD-R Player - donated by Veritas IT
£350 Cash
Fortnum & Mason Hamper
Family Ticket for Bletchley Park
Ticket for 4 - from Woburn Abbey
2 day passes and Head i.radical 'smarter' tennis raquet from David Lloyd Leisure
Two tickets - Milton Keynes Theatre
Two Cut & Finish vouchers - from Brown's Hairdressing
Hair treatment - from Changes Hair Salon
Manicure - from Hair & Beauty by Design
Eye test and 25% off any ensuing order - at Punch Opticians
Beauty Treatment - Mandala Health & Beauty
Beauty Treatment
Friday night Bed & Breakfast - at Queen Hotel, Olney
Restaurant/Pub Meals

Robin Hood, Clifton Reynes

2 Bottles of Wine - from Majestic Wine Warehouse
2 Bottles of Champagne - from Bacchus Fine Wines
Bottle of Champagne - from The Old Swan, Astwood
Bottle of Bells Whiskey and 2 Glenmorangie miniatures
Chauffeur driven ride in a prestige car
Jewellery - from Woosters Olney
Salter electric salt & pepper set - from Aubergine
Ornamental garden tree - from Flat Out Ironing Co Ltd
Two £10 vouchers - from Bernard Crook Garden Services Ltd
Two £10 vouchers - from Frosts Garden Centre
Two cushions - from Morgan Gilder
Flowers - from Market Florist, Olney
2 baseball caps, 2 sunglasses, Aramec camera, Swiss Army knife, ruler/slide stationery calculator - from Heron Opticians
Lock from Brinnick Locksmiths
Item also promised by New Studio Olney
Please note that this is only a provisional list and is subject to change. Items are still being promised and some items may be used in the Grand Auction instead.

On the day, raffle tickets will be available from the Fete Office (in the Stage Area) and from roving sellers. Also available in advance from local village groups and Willen Hospice supporters

Many thanks to both the corporate sponsors and the individuals who are contributing these splendid items for the Auction and Raffle!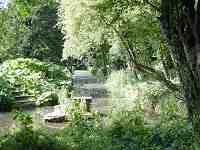 Once again, Village Groups will take HALF of all the proceeds from each ticket they sell, while the other half will support our chosen causes and help provide vital upkeep for our historic village church.
Order your printed tickets now and have them delivered to you to take part in this worthwhile fund-raising opportunity. Please call Jackie Inskipp: 01908 216214, or e-mail her at raffle@sheringtonfete.org.uk