Sponsorship

In 2003, more than 70 local businesses provided sponsorship, helping the Fete to raise more than £10,000 for local community groups, and providing sponsors with exposure to over 2000 visitors.
The 2005 Sherington Fete promises to be even bigger and better, offering a great publicity opportunity for sponsors, and a high profile way of supporting the local community.
Would your company or organisation like to help this year?
There are various ways you can help, eg: sponsoring events and activities or donating items for the Grand Auction or potential prizes for the Raffle and other competitions.


If you would like to help, please contact:

Nigel Anderson, Tel: 01908 217686

Main Sponsor - Programme and Team Challenge Event
VERITAS is IT in SHERINGTON!

We're delighted to announce that Veritas IT Recruitment is generously sponsoring our fete programme, as well as sponsoring the 'Bend IT like Beckham' Football Event in the Team Challenge, plus one of the teams. They have also sponsored the advertising boards for the Fete web site.
Veritas, based locally in Broughton, provides I.T. recruitment services to major national and multinational companies, supporting their clients' operations worldwide in a diverse range of industry sectors.
Their sponsorship is vital in enabling us to maximise the proceeds from the programme - all of which will now go to Willen Hospice and our other local causes. Thank you Veritas!

Main Sponsor - Grand Auction and a Team Challenge Team
BARCLAYS AID AUCTION SUCCESS

Many thanks to Barclays who are spurring us on to great things in the Grand Auction. Always generous in support of local community causes, they have promised to match funds raised from the auction (up to £750). They are also sponsoring one of the teams in the Team Challenge.

Sponsor - Publicity

has kindly provided some of the advertising boards.
Sponsors - Team Challenge Teams
Captain Carpet We're very grateful to Captain Carpet of Olney, who are once again supporting Sherington Fete by sponsoring a team for the Team Challenge (see the photos below of their team in 2003). And we're pleased to provide space for a stall for a worthy cause supported by Captain Carpet, MK Kids with Diabetes.
Christos Hair Design of Newport Pagnell are sponsoring one of the Team Challenge teams.
Domino's Pizza are sponsoring one of the teams and their pizzas will also be on sale.
Julian English Kitchens are sponsoring a team and also supplying a functioning worktop and sink for the Food Court
The Swan, Salford are sponsoring a team in the Team Challenge, as well as donating a raffle prize.
Sponsors - Team Challenge Events
Abbeymill Homes are sponsoring the Bungee Run.
Bex Boutique in Olney is sponsoring the Canoe Race.
Sponsors
Many thanks to the following organisations who have donated items to the Grand Auction, the Raffle, or for the History Quiz and Scarecrow Competition prizes, or who are helping the Fete in many different and essential ways: providing attractions, food, services or helping with logistics, etc.
A & E Autos
Acorn Nursery
Alban Hill Nursey Nursery
Aubergine
Balloon Solutions
Bedford Battery
Bernard Crook Garden Services Ltd
Borneo Linnells
Brian West & Son
Brinnick Locksmiths
Brocks Chocolates
Changes Hair Salon
Clythe Complementary Health Clinic
J W Cook and Son
Curtain Exchange
Flat Out Ironing Company
Frame Makers
Gordon Adderson Dairies
GPC International
Hair & Beauty by Design
Heron Opticians
Jacqueline Rosemary's Health & Beauty
Jaynes Cox




J Douglas Butchers
Krystal Hygiene Ltd
KIM Development
Llaundery Llamas
Mandala Health & Beauty
Market Florist, Olney
Matthew Williams Designs
Much A Do Catering
Newport Pagnell Domestic Repairs
Olney Scaffolding
Plumbquest
Prego
Robin Hood, Clifton Reynes
Sherington Furniture Restoration
Shoosmiths
The Swan Inn, Sherington
UK Emergency Glazing
Words Bookshop



Thank You!
Finally, many thanks to the many other individuals who have supported the Fete and made it a truly village effort. Everybody's help has made a difference, whether it has been via assistance with a service, help with time or donation of an item or gift....
THANK YOU!!
2003 Fete
The last Fete in 2003 exceeded all expectations, raising over £10,000 for local community groups, and all who attended enjoyed a fantastic day of family fun. The 2003 Fete website gives you details of the attractions, sponsors and events, including 90 photos of the day itself, and 40 scarecrows. With your help, we hope to make the 2005 Fete even bigger and better.
List of 2003 sponsors. The photos show just some of the many ways sponsors participated on the day itself: all the team members in the Team Challenge sported T-shirts with the sponsor's name on the back, whilst other sponsors provided popular activities.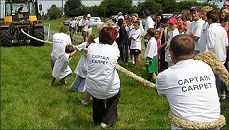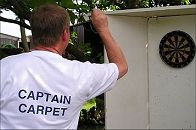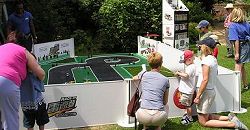 Village Web Site
Visit www.sherington.org.uk for more information on Sherington, local community groups and other local events.