Update: The videos were released at the end of August on Youtube, but have since been removed as Avenge Productions have now split up and are pursuing other projects - Further details on Wade Radford's own web site http://www.shiftingthevelvet.piczo.com/?cr=5 which also has links to earlier videos.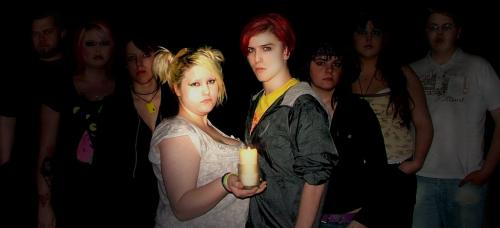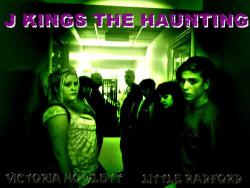 This film about the Paranormal is described in the following email from Wade Radford:
My name is Wade Radford, and I present a local show called "J Kings the Haunting", a paranormal research show made by 17-25 year olds.
J Kings the Haunting is a show that researches the fact and fiction of the paranormal world. We ourselves neither believe nor disbelieve in life after death. The idea of the show is to get to the bottom of one of the worlds most sort after questions.
Earlier this year we came to the end of filming our season 1 of "J Kings the Haunting" in Beds, Bucks, Herts & Northants.
Over the course of our season one we visited seven locations, five of which shall air in our forthcoming season 1 starting on Tuesday 12th August 2008 (delayed - now Tuesday 26 August). The locations that shall be airing are as follows;
The Swan Hotel- Leighton Buzzard
The Institue- Woburn Sands
Sherington Village- Sherington, Buckinghamshire
St Peters Ruins- Hanslope
The Swan Revived- Newport Pagnell
Our series one shall air for five weeks via the internet, on our website at www.jkingsthehaunting.tk and on other video servers, including the MK Online portal Just Yes TV.
Currently we are back on the road filming for a season 2, which includes a trip to the notorious Golden Fleece Pub, in Yorkshire, and The Ragged School Measum in London.
As well as over 17 local establishments including, the red lion pub, Leighton buzzard, The Swan at Chesham, The Tollemache Arms, Kettering, The Bell Inn, Finedon, Galloways, Woburn, and The Oakley Arms, Harrold.
Currently at the moment we are looking for further publicity for our season one which is due to air in 4 weeks time, so are looking for local papers, and website to tell our story.
We are a group of youths who run a documentary company called Avenge Productions. We have been running J Kings the Haunting since November 2007, completely unfunded by any councils or grant funds. All money spent on our productions (which now is entering the thousands) has been completely funded by ourselves and fund raising. We wish to continue travelling with our show for many more seasons, so success of our season 1 is vitally important to make our season 2 worth while. Our season 2 project is currently in it's third week of filming and we shall be filming nearly every week up until November.
We would love to be publicised by local features including radio, TV, & newspaper.
If this sounds like something you'd wish to feature we'd be delighted. For interviews or following information, we are more than happy to answer reply emails, or you can contact me (the presenter) directly on 07799005568.
Thank you for your time,
Kind Regards,
W.Radford
www.jkingsthehaunting.tk
www.myspace.com/jkingsthehaunting
AVENGE PRODUCTIONS
Makers Of J Kings The Haunting
Wade Radford- 07799005568
Victoria Howlett: (01908) 583108
www.jkingsthehaunting.tk